Bison Steak Slices With Seasoned Dip
---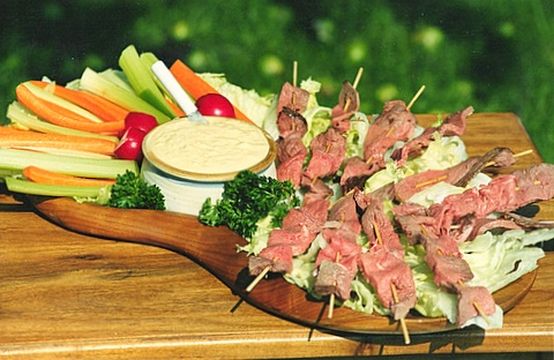 INGREDIENTS
Up to 1 lb thinly sliced, previously cooked and chilled bison roast or steak


1 cup mayonnaise
1/3 cup chili sauce
1/4 cup prepared mustard
1/4 cup chopped onion (green, Vidalia, or Spanish)
1 tbsp horseradish (raw grated or prepared)
1/2 tsp dry oregano
1/6 tsp ground black pepper
1/3 cup sour cream


raw vegetables of choice
DIRECTIONS
Put all the dip ingredients into a food processor (mayonnaise, chili sauce, mustard, onion, horseradish, oregano, black pepper, sour cream).
Blend briefly to combine and refrigerate for 4 hours before using. Makes 2 cups.
Skewer the previoulsly cooked and sliced bison meat and serve with your choice of raw vegetables along side.
Present on a platter with a bowl of the chilled Seasoned Dip.