FREQUENTLY ASKED QUESTIONS
---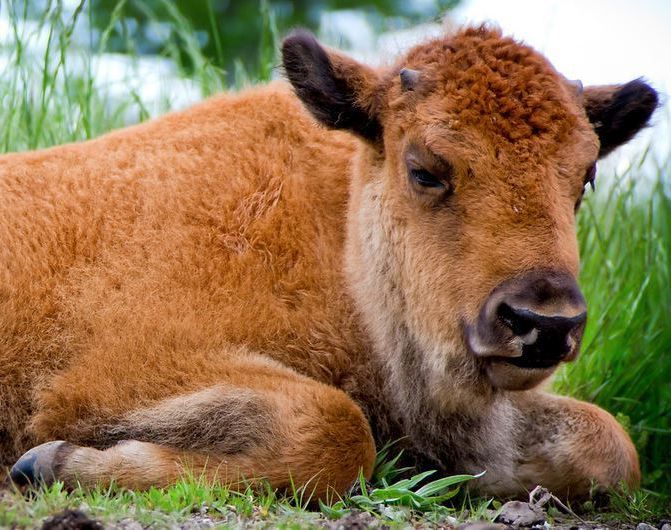 Is bison meat non-allergenic?
Where do I find bison meat for sale?
How do I really know I'm buying 100% grass-fed bison meat?
When is bison meat most flavorful?
Does grain-fed bison taste better than 100% grass-fed bison?
I know bison is low in fat, but does it really just have 2.42 grams fat per 100 grams of cooked meat?
Can bison's low cholesterol and low fat content help reduce atherosclerosis and heart disease?
Do 100% grass-fed bison spend any time in feedlots?
Is there a mandatory grading system for bison, like there is for beef?
Can bison be cooked just like beef?
Can bison meat be smoked?
Do you publish a cookbook?
Does Bisonbasics have a social media presence?
---
IS BISON MEAT NON-ALLERGENIC?
Regardless of how bison is grown, 100% naturally grass-fed or otherwise, there is no scientific evidence to support the claim that bison meat is non-allergenic.
In fact bison like other mammalian meats can, by rare exception, cause an allergic reaction in some people. Other mammalian meats include beef, pork, lamb, venison and goat.
The most up-to-date scientific information available indicates that an allergic reaction can be triggered in people who have been bitten by a tick or a chigger.

• For more details please go to this University of Virginia FAQ.
• For one man's personal story please see this Washington Post article.

The allergic reaction caused by a tick or chigger bite, albeit a minor concern for most people, is the one we currently know the most about. But since meat allergies are the subject of ongoing research at several institutions specializing in food research, one can conclude that it will only be a matter of time before other allergic factors are discovered.
Back To Top Of Page
---
WHERE DO I FIND BISON MEAT FOR SALE?
Start by doing a search at Bison Central for the U.S.A., or the Canadian Bison Association for Canada.
There are also numerous state and provincial associations that can also assist you by suggesting specific farms that sell directly to the public.

BUT BE AWARE OF TWO THINGS
• Most associations include both 100% grass-fed bison farms, and farms where grain is part of the feeding protocol. Regardless of what is claimed on websites, be sure to ask the farmer about their feeding practices. Does he or she supplement or grain finish their bison, or are they selling the 100% grass-fed bison you are looking for?
• Secondly, there are numerous bison farmers who do not belong to any association. Can they be trusted to provide you with a quality product? Most can, but be sure to visit the farm. A quick visual inspection should answer most of your questions.

Occasionally 100% grass-fed bison can be found at farmers' markets, food trade shows, special events, and exhibitions. Start with something small from any one in this group-say some ground or some burger patties. If you like the product then try to buy directly from the farmer supplier where, depending on the amount you buy, it can be less expensive.

Internet and/or mail order suppliers is another possibility. The best ones in this group will usually represent just one farm and welcome visitors to their farms. With umbrella corporate organizations representing several farms, 100% grass-fed bison is usually not available.

Finally, although boutique butcher shops do on occasion stock 100% grass-fed bison, most grocery chains do not. For the most part, their supply requirements cannot be met by the grass-fed industry. Almost invariably what chain stores have in stock is grain-fed or grain finished product. Again, ask the grocer questions, or check the label for the source of the meat and do a little research over the Internet.
Back To Top Of Page
---
HOW DO I REALLY KNOW I'M BUYING 100% GRASS-FED BISON MEAT?
Since feeding protocols are not regulated or monitored, you can't trust any supplier claiming they are selling 100% grass-fed bison unless their track history is established and reputable. When in doubt visit the farm. Pastured, grass-fed bison should be exactly that. From late spring to early fall they should be seen grazing on plenty of lush green grass and some legumes (usually alfalfa and clover). When drought occurs, and from late fall to late spring, there should be plenty of quality hay available. Crowded conditions, weedy pastures, and/or clear evidence of grain feeding means you should probably seek out another supplier.
Back To Top Of Page
---
WHEN IS BISON MEAT THE MOST FLAVORFUL?
The most flavorful bison will have been feeding on fresh green grasses for at least three months prior to slaughter. The better quality the grass, the better quality the bison. Ideally that means bison should be finished on well managed green pasture in the summer or early fall when grass is sweet. Bison grown on pastures where wild flowers or weeds are prevalent can be 'off' tasting. Bison meat from hay fed bison, those slaughtered from early winter to late spring, or being fed hay during a drought, will not be nearly as good.
Back To Top Of Page
---
DOES GRAIN-FED BISON TASTE BETTER THAN 100% GRASS-FED BISON?
No, not in our estimation. Unfortunately, grain feeding is often insisted upon by major corporate meat packers. Affiliated farmers who want to sell to the 'majors' are usually instructed, if not contracted, to finish their bison on grains for about 100 days before going to slaughter.

Grain feeding will fatten bison, add weight, and result in a consistent tasting product. But for many consumers grain-fed bison just does not measure up in taste when compared to a properly grass-fed and finished animal. Except for a little less fat, grain fed bison may not be all that different in taste than feedlot beef.

To appreciate the difference between grass-fed and grain-fed bison, a taste comparison between the feeds bison may consume can speak volumes. Typical feed grains such as cattle corn and barley are naturally starchy and have next to no discernable flavor. Compare that to the taste of summer grasses and the difference is like night and day. Summer grass actually tastes like a fresh salad mix. It follows that grass-fed bison meat from well-managed pasture can offer an appealing flavor complexity that is rarely found in grain-fed product.
Back To Top Of Page
---
I KNOW BISON IS LOW IN FAT, BUT DOES IT REALLY JUST HAVE 2.42 GRAMS OF FAT PER 100 GRAMS OF COOKED MEAT?
The short answer to this question is, 'NO'.

The data source of '2.42 grams fat per 100 grams of cooked meat' is the USDA Nutrient Database for Standard Reference (NDB no. 17157). Unfortunately these misleading numbers are widely used for marketing purposes by numerous bison farms and their respective associations. To the best of our knowledge they haven't been updated in decades. To be meaningful, since there are differences in cooking procedures and how we as individuals define 'cooked meat', it would be far more beneficial to provide data for raw meat instead. But it shouldn't be a composite number such as the one quoted above. To be of most benefit the numbers must be 'meat cut' specific.

There are differences between cuts. A well-trimmed steak could easily have less than 5% fat content. Ground bison for burgers will usually have at least 10% fat content and sometimes 15-20% fat content, which makes for an even better tasting burger. In addition, fat content will vary from bison to bison depending on such variables as farm location and diet, age and sex of animal, the season (bison can run leaner through the winter months), even genetics plays a role. Unfortunately lab costs for doing fat content analysis on the various bison cuts on an ongoing basis would run several thousands of dollars--something that is well beyond the financial reach of most bison farmers. That's why they, and the associations representing them, will often quote the ubiquitous '2.42 grams fat per 100 grams of cooked meat'. Ignore these numbers; they are meaningless.

Like all grass-fed animals, what really matters instead of total fat content is the ratio of Omega 6 to Omega 3 polyunsaturates. Bison finished on rich green pastures will usually have a healthy Omega 6 to Omega 3 ratio of 4:1 or less. Whereas grain fed bison's Omega 6 to Omega 3 ratio is invariably much higher, making it the less healthy choice. This is not to say the role of Omega 6 fatty acids in your diet should be minimized. The health benefits of Omega 6 derived from Conjugated Linoleic Acid (CLA) has been extensively documented. But CLA is only prevalent in bison feeding on fresh grass, not hay or grain fed bison.
Back To Top Of Page
---
CAN BISON'S LOW CHOLESTEROL & FAT CONTENT HELP REDUCE ATHEROSCLEROSIS (HARDENING OF THE ARTERIES) AND HEART DISEASE?
No, not necessarily. A low fat and/or low cholesterol diet is no guarantee of heart health.

For some respected researchers, the link between high fat or high cholesterol intake and the occurrence of these diseases is tenuous. World renown heart surgeon Dr. Dwight Lundell doubts there is any link between high cholesterol and heart disease. You can find more information in the comments about arterial plaque and inflammation on this linked webpage.

Two prominent writers in the food journalism community have written extensively on this subject. Both books are worth the read.
• Michael Pollan's In Defense of Food
• Gary Taubes' Good Calories, Bad Calories

Suffice to say, bison coming off fresh green pasture with it's higher Omega 3 content is more heart healthy than the grain fed alternative.
Back To Top Of Page
---
DO 100% GRASS-FED BISON SPEND ANY TIME IN FEEDLOTS?
No, definitely not!

Feedlots solely exist to fatten and finish bison on a diet that is primarily based on grains, pulses, and/or soy meal. It's an unnatural diet for an animal designed to flourish and be finished on grass.
Feedlot or grain-finished bison will not have the same health benefits as naturally grass-finished bison. The Omega 6 to Omega 3 ratio is invariably too high.
In addition, feedlot or grain finishing can involve the use of genetically modified feed. Unless organically certified, all grains whether they be genetically modified or not, are usually grown in chemically treated soils.
Back To Top Of Page
---
IS THERE A MANDATORY GRADING SYSTEM FOR BISON, LIKE THERE IS FOR BEEF?
Currently there is no mandatory grading system for bison.

The beef grading system is reliant on intramuscular fat content, or marbling. The more marbling in the meat muscle, the higher the grade. But with bison, especially grass-fed bison, there is next to no marbling in the meat so a grading system based on that criteria would be useless.

Still, a little consumer awareness can go a long way in making sure you are buying a quality product.
• Bison 2 1/2 to 4 years in age, coming off green pasture in late summer or early fall is your best bet.
• Bison can be dry aged for up to 14 days, but due to its leanness 7 to 10 days is not uncommon. Little to no dry aging usually makes for unacceptable meat.
Back To Top Of Page
---
CAN BISON BE COOKED JUST LIKE BEEF?
For the most part, no. Bison steaks, roasts, stews, burgers and the like, all require slightly different cooking techniques than is the case for beef. Bison's lower fat content is one reason why special cooking considerations have to be made.

But there is one other reason why slightly different cooking techniques are necessary, especially in the case of roasts or stews cut from the hip, leg, or shoulder regions. The muscles in these regions are known as 'working' muscles, and they can really work in the case of bison. A bison's musculature is designed to allow them to move much more quickly when compared to cows. Bison muscle density in these regions is similar to members of the deer family-another group of animals designed to move very quickly when necessary. For best results, stews and roasts require longer & lower heat cooking than beef. Often reheating is necessary, that way the most tender and flavorful results are realized.

However, beef recipes can be substituted in cases where ground meat is used in soups, chilies, and some casserole recipes.
Back To Top Of Page
---
CAN BISON MEAT BE SMOKED?
It can be, but only in certain situations.

We've had success with meatballs and smoked jerky. (NOTE: Recipes will be posted asap) Due to bison's low fat content and its musculature, the shoulder does not make satisfactory 'pulled' meat.
• For great 'pulled' meat always go with pork.
• For Montreal smoked meat, a well-marbled fattier beef brisket is superior to the much leaner bison brisket.
Back To Top Of Page
---
DO YOU PUBLISH A COOKBOOK?
No, not at this time.

The need for a recipe website devoted to bison meat was realized in the late 1990s. At that time what was available in print really didn't meet our needs, so hence the creation of Bison Basics. Not much has changed. The few cookbooks exclusively devoted to bison that are in print still fall short of our expectations.
The website is our reference tool, a cookbook on line if you will.
Back To Top Of Page
---
DOES BISONBASICS HAVE A SOCIAL MEDIA PRESENCE?
Yes.
• You can Like Us on FACEBOOK
• or Follow Us on
You can also find the links at the bottom of every Bison Basics webpage. On social media we post about everything related to Bison, plus you can comment and ask questions too.
The website has an email submission form on the Home Page that can also be used to contact us.
Back To Top Of Page
---