Buffalo and Bean Burritos
---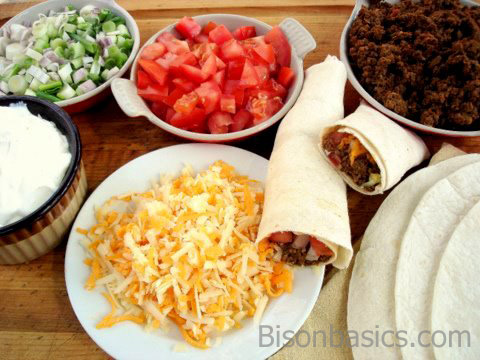 INGREDIENTS
2 tbsp cooking oil, peanut or grape seed preferred
2 lbs ground bison
1 cup finely chopped sweet onion
2 tsp minced garlic
1 tbsp chili powder
1 tbsp dry oregano leaf
1 tbsp ground cumin
2 tsp ground coriander seed
1 tsp salt
1/2 tsp ground black pepper
1 1/2 cups salsa sauce (medium or hot)
Cayenne pepper to taste (optional)
2 tbsp red wine vinegar
16 oz can refried beans (400 ml)
12 flour tortillas (10 inch)
fillings of your choosing
DIRECTIONS
In a large frying pan, heat the oil over moderately high heat. Add the bison, stir and break up any chunks that form as it cooks. Cook until browned completely and very little moisture remains.
Reduce heat to medium. Add sweet onion, minced garlic, chili powder, oregano, cumin, coriander, salt, and black pepper. Cook for 5 minutes, stirring occasionally. Blend in salsa. Cook for another 3 or 4 minutes, or until heated through. Check for 'spiciness', add some cayenne pepper if necessary.
Blend in red wine vinegar and refried beans. Stir and cook until bison and refried bean filling is relatively thick without being runny. Remove from heat once desired consistency is reached.
Heat flour tortillas as per package directions. Reheat burrito filling in frying pan or microwave.
Spoon the filling (3 to 4 ounces, about 1/2 cup) lengthwise on the tortilla left or right of centre. Leave a minimum clearance of at least 2 inches at the bottom of the tortilla. Top off with garnishes of choice. Fillings can include, but are not limited to: sour cream, guacamole, shredded cheese, shredded lettuce, sliced olives, diced tomatoes, chopped green onion, fresh coriander leaves, hot peppers, enchilada or salsa sauce.
First fold: fold the bottom of the tortilla up so the contents don't fall out.
Second fold: fold the side closest to the filling over the contents so that the fit is very snug.
Continue to roll the tortilla snugly and let it rest fold side down. Serve in a serviette, open end up.