Pan Fried And Oven Roasted Bison Tenderloin Steak
---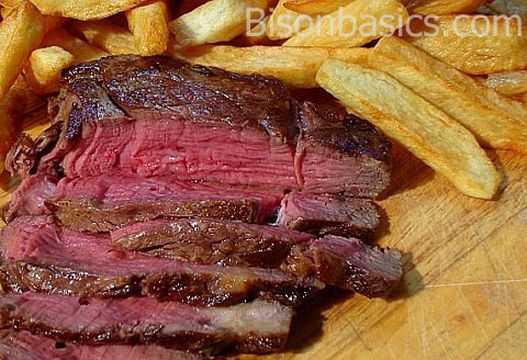 INGREDIENTS
bison tenderloin steaks - each 1 1/2 inches thick and weighing somewhere between 4.5 and 7 ounces
clarified butter
sea salt
DIRECTIONS
From refrigerator, allow the steaks to rest for 45 minutes at room temperature before starting to cook.
Set the oven at 275F, convection preferred, 15 minutes before searing the steaks.
Brush each steak, both sides, with a little clarified butter. Sprinkle both sides with some coarse sea salt.


Heat more clarified butter (about 1 tbsp) over high heat in a heavy bottomed frying pan until it's almost smoking.
Sear the steaks, without disturbing, for one minute. Flip them, and sear the opposite side for one minute as well.
Immediately transfer the seared steaks to a wire baking rack set in an open roasting pan. Note: although a vented roasting pan will do, the use of a wire baking rack is a better choice. It allows for better air circulation and helps facilitate even cooking.


We highly recommend the use of an accurate digital meat probe thermometer. Insert the probe horizontally into the middle of one of the steaks. Otherwise, follow the time guidelines suggested below. To maintain even heat, do not open the oven door until the desired level of doneness is reached.


For rare, remove steaks from oven when the probe thermometer reaches 120 to 125F (16 to 18 minutes). For medium-rare, 130 to 135F (22 to 24 minutes). For medium, 140F (28 to 30 minutes).
After coming out of the oven, allow the steaks to rest uncovered at room temperature for 10 to 15 minutes. This breather before serving will allow time for the juices to sink back into the meat. The steaks will stay warm at this stage; in fact internal meat temperature can peak by 3 or 4 degrees while resting.


Then enjoy bison's most tender offering with fries or another of your favorite sides.