Buffalo Philly Cheese Steak Sandwich
---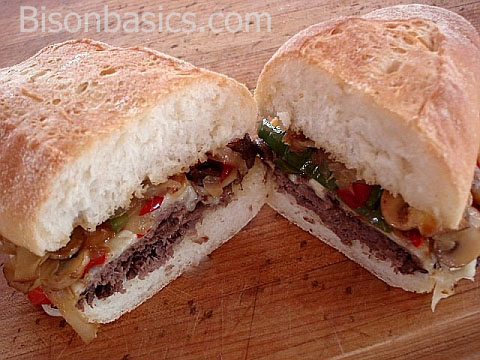 INGREDIENTS
5-6 oz thinly sliced tender rib-eye, loin, or sirloin bison steak
1 good quality crusty sub or hoagie bun, about 9 inches long
4-5 oz thinly sliced sweet onion
2-3 oz thinly sliced fresh mushrooms
sweet bell pepper slices, red and/or green (optional)
2 slices provolone cheese
cooking oil (peanut or grape seed preferred)
DIRECTIONS
Pre-heat the oven to 225F.
Heat about 1 tablespoon of cooking oil in a saucepan over medium-high heat. Once hot, add onions, mushrooms, and bell pepper slices if using. Sprinkle in salt and pepper to taste. Sauté until the onions and mushrooms begin to brown up, about 10 minutes. Transfer pan contents to a heat proof bowl and hold in the pre-heated oven.
Add 2 teaspoons cooking oil to the saucepan and allow it to heat up over medium-high heat. Once hot, add the steak slices. Sprinkle with salt and pepper. Fry slices for about a minute or two per side, or until cooked through.
Transfer the meat to one side of a split bun, top with additional condiments of choice and one slice of provolone cheese.
Remove the sautéed vegetables from the oven and spread them evenly on the opposite side of the split bun. Top with the remaining slice of provolone cheese.
Put the sandwich on a baking pan and place it a couple of inches below the broiler. Broil until the cheese just starts to brown. Remove from oven and serve immediately.