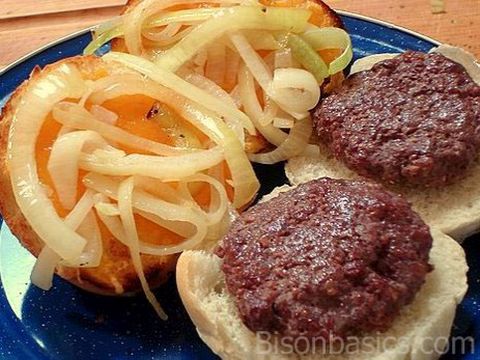 INGREDIENTS
2 lbs ground bison (10 to 20% fat content)
1 tsp fine sea salt
1/2 tsp freshly ground black pepper
2 large bulbs of garlic (optional)
cooking oil (grapeseed or peanut)


2 tbsp butter
2 lbs sliced yellow onions (or 1 lb sliced shallots)
1 lb sliced mushrooms (optional)
salt & pepper


6 oz sharp or very old cheddar cheese, grated


12 small buns, about 3 inches in diameter
DIRECTIONS
These burgers can be made with or without garlic. For best flavor the garlic should be roasted. Roasted garlic can be prepared the day of, or a day or two ahead.
To roast garlic, set oven at 375F. Cut the tips off each garlic bulb so that the tops of the cloves are exposed. Set bulbs, cut side up, on a sheet of aluminum foil. Pour a teaspoon of cooking oil over the top of each bulb. Wrap to seal then roast for 45 to 55 minutes, or until garlic starts becoming golden in color. Remove from oven, open foil, and allow garlic to cool. Once cool, remove the roasted garlic from each bulb by squeezing from the root end of the bulb out the open tip. It will be very paste-like at this stage. Store roasted garlic in a sealed container in the refrigerator until needed.
In a large mixing bowl, break up the burger, add the roasted garlic if using, and sprinkle in salt and pepper. Mix to combine. Form meat mixture into 12 patties of equal size, about 3 ounces each. Refrigerate on a foil or wax paper lined baking sheet for about 45 minutes.
Heat gas barbecue, lid closed, with the griddle inside to approximately 375F, or medium-high heat. This normally takes about 10 minutes. While griddle is heating up, split the buns and top the bottom halves with the grated cheese. Set the cheese topped buns on a separate baking sheet.
Just before cooking the burgers, melt the butter in a large saucepan over medium heat and start sautéing the onions/shallots and mushrooms if using. Add salt and pepper to taste.
Soak some paper towel with cooking oil and grease the griddle. Quickly place the burgers on the griddle; close the barbecue lid and cook burgers for 6 minutes without disturbing.
While the burgers are cooking check the large saucepan and stir ingredients occasionally. Vegetables will usually be cooked to desired doneness before burgers are finished cooking. That being the case, remove saucepan from heat and set aside uncovered.
Open barbecue and flip burgers. Cook opposite side for another 6 minutes. While burgers are cooking turn on oven broiler and set oven rack about 5 inches below the broiler. With 2 minutes of cooking remaining place the cheese covered bun halves under the broiler. Put the other bun halves on top of the cooking burgers, close the barbecue lid.
To finish, remove the bun topped burgers from griddle, and cheese topped halves from oven. Top cheese topped halves with sautéed ingredients from large saucepan. Put the two halves together and enjoy.


NOTE: Cooking times specified are approximate and are meant for well-done burgers. More or less time may be required depending on the barbecue and/or the griddle being used.
NOTE: We found griddles from Little Griddle did a commendable job. As an alternative, a cast iron griddle may also be used. Just be sure it is properly seasoned -- that way the burgers won't stick. If a griddle is not available, a cast iron frying pan will do.