Braised Bison Steak On A Kaiser Bun
---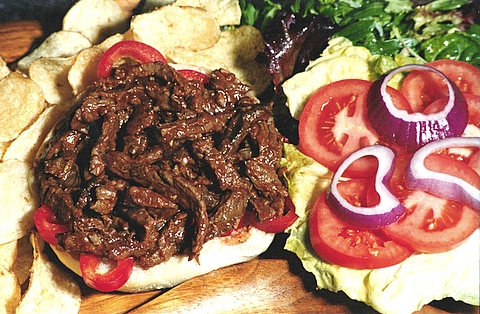 INGREDIENTS
1 1/2 lbs trimmed round steak, cut into 1/8 inch thick strips
1/3 cup finely chopped onion
1-2 tbsp canola oil
1 1/2 tbsp brown sugar
2 tsp paprika
1 tsp oregano
1 tsp chili powder
1/2 tsp coarsely ground black pepper
1/2 tsp salt
1 bay leaf
1 large clove garlic, minced
1 small can tomato sauce (7.5 oz)
2 tbsp water
1 tbsp olive oil
3 tbsp red wine vinegar
1 tbsp Worcestershire sauce
1 1/2 tbsp HP steak sauce
1 tsp dry mustard
sauce or gravy thickener
DIRECTIONS
In a medium-hot saucepan, brown bison strips in canola oil.
Once brown, transfer meat strips to a small Dutch oven or casserole dish.
Add all other ingredients, except for the sauce thickener.
Stir gently to blend. Cover, and place in a 225F oven.
Cook for 3-4 hours, or until the meat is tender and flavourful. Stir meat 2-3 times while cooking.
Once meat is tender, remove Dutch oven from the oven.
Uncover, remove bay leaf, and bring to a boil on the stove.
Thicken to desired consistency with sauce or gravy thickener as per package directions.
Taste and adjust seasonings if necessary.
Serve on Kaiser buns, topped with vegetable condiments of choice.