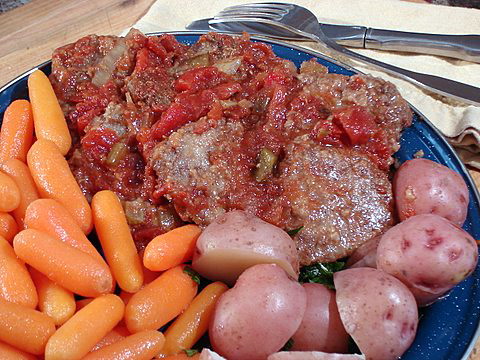 INGREDIENTS
2 lbs bison round steak, cut 1/2 inch thick
1/2 cup all purpose flour
2 tbsp dry mustard
1 tsp salt
1/2 tsp freshly ground black pepper
1 28oz can diced plum tomatoes
2 tsp garlic, minced (2-3 cloves)
1 cup chili sauce
2 medium size onions, peeled and sliced thickly
1/2 cup finely chopped celery
2 tbsp Worcestershire sauce
oil sufficient for frying (peanut, canola, or coconut)
DIRECTIONS
Preheat oven to 300ºF. Trim bison steak of any fat and portion into 3 to 5 ounce pieces. Pound steak pieces with a tenderizing mallet until about 1/4 inch thick.
Combine flour, dry mustard, salt and pepper in a large plastic bag. Add tenderized steak pieces and shake to coat.
In large non-stick skillet, heat 1 to 2 tbsp of canola oil over medium high heat. Brown coated steak pieces for 3 to 4 minutes per side. Brown steak in batches if necessary, adding more canola oil if required. Transfer browned steak pieces to a 4 to 6 quart Dutch oven.
In a separate mixing bowl combine plum tomatoes, garlic, chili sauce, onions, celery and Worcestershire sauce. Pour over steak pieces in Dutch oven. Cover and cook in oven for 2 1/2 hours.
Remove Dutch oven from oven and serve with choice of vegetable. For better flavour, refrigerate overnight and reheat the next day at 325ºF for an hour or so. For thicker sauce reheat uncovered, stirring once or twice during reheating.
This dish also freezes well. Remove from freezer, cover, and reheat in a 425ºF oven for at least an hour.