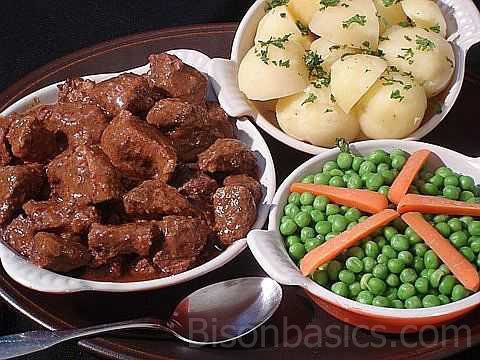 INGREDIENTS
2 tbsp flour
1/2 tsp salt
1/2 tsp freshly ground black pepper
2 lbs bison stew meat cut into 1 inch cubes
2 tbsp cooking oil (peanut or canola)
2 cups stock (chicken, vegetable, bison, or a combination)
1/2 tsp salt
2-3 tbsp tomato paste
3 whole cloves
1/4 cup packed, chopped fresh curly parsley
DIRECTIONS
Set oven at 275F.
Put the flour, salt, and pepper in a plastic or paper bag. Add bison meat cubes and shake to coat.
Put cooking oil in large saucepan and heat over medium-high burner. Once hot, add the meat cubes. Brown meat on all sides, stirring occasionally. Reduce heat to avoid excessive browning-on if necessary.
Remove pan from heat source once the meat is browned. Transfer meat cubes to a 3-4 quart casserole dish.
Add the stock to the saucepan and return to medium-high burner. Work a whisk along the bottom of the saucepan to blend in any of the browned-on bits. Whisk in the salt, tomato paste, whole cloves and fresh parsley. Once combined add the saucepan contents to the meat in the casserole dish.
Line the top of the casserole dish with aluminum foil to help form a seal. Put the cover on top of the aluminum foil seal and cook in the oven for 4 hours. Stir stew once after 2 hours of cooking.
Serve with vegetables of choice.
Stew is even better reheated the following day.